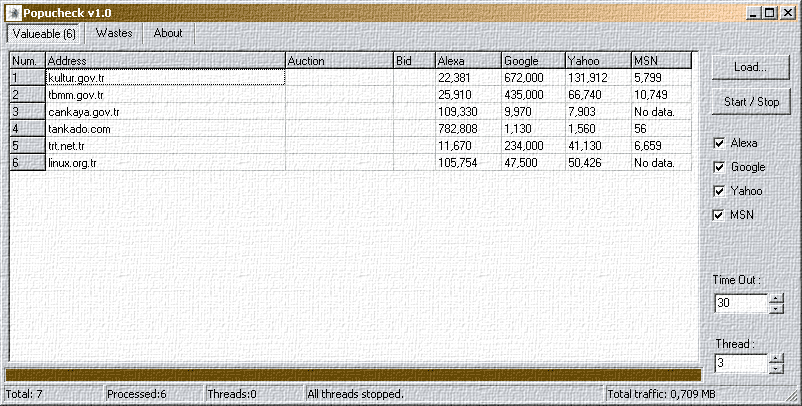 Introduction

PopuCheck is a domain name popularity checker. It automaticly queries Alexa, Google, Yahoo Search and MSN Search sites and gets valuable comparisation data. You can easly check all of your domain's popularity with PupuCheck. Also PopuCheck is a valuable SEO tool to find popular domain names on Internet for advertising.

PopuCheck originaly designed for getting Alexa popularity rank. Alexa is popular visitor navigation habits collector. It has millions toolbar installed computer at the world to collect visiting statistics. Alexa provides important comparisation data for a domain about its popularity level. Although, Alexa protects own query system against 3. party sites and softwares which want to get popularity rank score but PopuCheck successfully bypass it.

Also, PopuCheck has functionalities for expired domains provided at snapnames.com. Snapnames.com is public auctions site for expired domains.PopuCheck is usefull for decide to join auction at Snapnames.com for a domain name.


Overview

PopuCheck has multi-threaded architecture. This minimizes scanning time. You can increase thread count balanced with your internet speed. It has additional two columns for snapnames's domain list. There are auction and bid columns will be functional only when snapnames.com's domain list used otherwise hasn't any function. There are five checkboxes Google Pagerank, Alexa, Google, Yahoo and MSN at right panel. PopuCheck serves popularity score as $/year value from selected data sources like Google Pagerank, Alexa etc. also displays each results in own colums. Alexa and Google Pagerank value provides valuable information than others by popularity level and domain name value. Alexa data tells position of the site from the top in the world. For examle, If Alexa and Google Pagerank doesn't return any value you can decide to domain name not enough valuable. Google, Yahoo and Live values tell about these search engine's record and backlink counts.
Also you can use own domain list file to scan. Each domain name must be located at each line in the file. Each PopuCheck job thread scans and gets information about domain name. In this situation Auction column and Bid column doesnt contain any value.
PopuCheck displays total internet traffic that used by scan threads at status bar.

Contact

Please contact about any subject related with PopuCheck at tankado@tankado.com

To inform possible bugs you can use the forum.


Go to Download page